Brahms German Requiem
The Green Mountain Mahler Festival in conjunction with the Vermont Refugee Resettlement Program, North End Studios, and the Bread and Puppet Theater present a community centered performance of the Brahms Requiem to benefit famine relief in Africa and the Middle East. The concert will take place on Saturday, June 17, 2017 at 4:30 pm at St. Joseph's School, 20 Allen Street in Burlington. Ticket information TBA.
Brahms Requiem Participating Musicians (Orchestra and Chorus)
GMMF Benefit Concerts Raise $12,500 for Vermont Refugee Resettlement Program in Two Years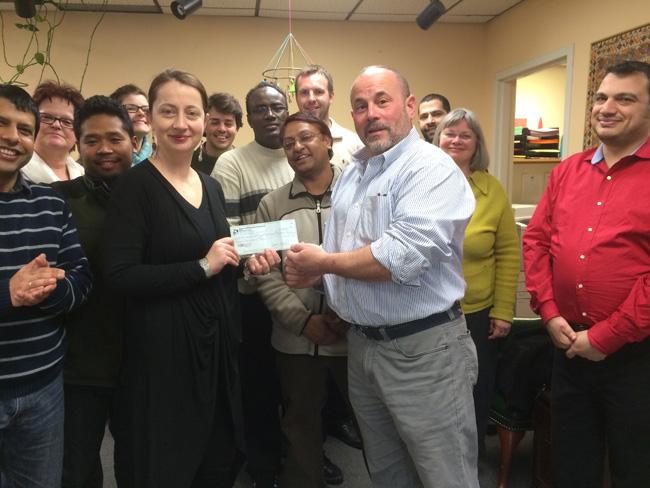 Amila Merdzanovic, Director of the USCRI Vermont Refugee Resettlement Program, accepts a check from Green Mountain Mahler Festival President Dan Weiss. The Festival's 7th Annual Performance of Beethoven's Ninth Symphony on January 1, 2017 raised $5500 for the Program. The Festival previously donated $7000 raised by last year's New Year's Day concert.

Video by LCATV, January 1, 2017.
About GMMF
The Green Mountain Mahler Festival, founded in 2002, is dedicated to providing an opportunity for local area musicians to experience and enjoy the works of Gustav Mahler and other great Romantic composers, and to bring this music to the public.
The GMMF is a non-profit 501(c)(3) organization. Contributions are gratefully accepted.